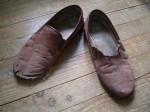 "In prison, lights were out by eight o'clock. We'd each tell a story. That was our entertainment. One of my cell mates, a merchant, Tawfiq – he would tell the Abu Kassem story"
This was a tale well known to children all over Africa: Abu Kassem, a miserly Baghdad merchant, has held onto his battered, much repaired pair of slippers even though they were objects of derision. At last, even he couldn't stomach the sight of hem. But his every attempt to get rid of his slippers ended in disaster: when he tossed them out of his window they landed on the head of a pregnant woman who miscarried, and Abu Kassem was thrown in jail; when he dropped them in the canal, the slippers choked off the main drain, and caused flooding, and off Abu Kassem went to jail…
One night, when Tawfiq finished, another prisoner, a quiet, dignified old man said, "Abu Kassem might as well build a special room for his slippers. Why try to lose them? He'll never escape." The old man laughed , and he seemed happy when he said that. That night the old man died in his sleep.
"The following night, we couldn't wait to talk about Abu Kassem. We all saw it the same way. the old man was right. The slippers in the story mean that everything you see and do and touch, every seed you sow, or don't sow, becomes part of your destiny …
Later relating this to his children Ghosh sighed. I hope one day you see this as clearly as I did when I was in prison.
The key to your happiness is to own your slippers, own who you are, own how you look, own your family, own the talents you have, and own the ones you don't. If you keep saying your slippers aren't yours, then you'll die searching, you'll die bitter, always feeling you were promised more. Not only our actions, but also our omissions, become our destiny."
(From "Cutting for Stone," by Abraham Verghese, Vintage Books)
The key to psychological health is accepting yourself exactly for who you are. We all have good parts as well as parts that we might feel ashamed of. True freedom comes when we accept all these parts that make up who we are. Only then do we stop wasting precious time and energy pretending to be something that we are not.