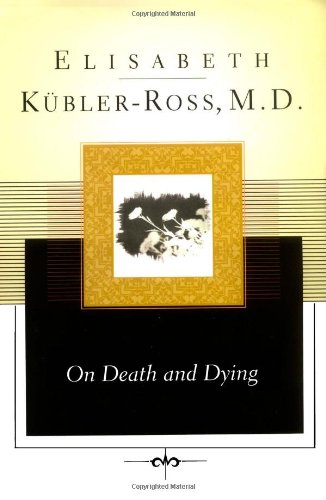 – On Death and Dying
Elisabeth Kübler-Ross (July 8, 1926 – August 24, 2004) was a Swiss American psychiatrist, who was the author of the groundbreaking book On Death and Dying (1969).
Kübler-Ross proposed that there were five stages of grief and this became known as the Kübler-Ross model. Understanding these stages of grief can make sense of what one is experiencing when coming to terms with the death of a loved one. A dying person also goes through these stages of grief in the process of coming to terms with their impending death.
Grief is experienced as an intense, emotional suffering caused by a personal loss of any kind.These reactions are normal and not a sign of weakness or immaturity. Life's journey is different for each one and not everybody goes through all the stages as outlined by Kübler-Ross. One person might experience anger at her husband's death and another might not. However, acceptance is the final stage for the grieving person, an acceptance of reality and a desire to move on.
Experiences of loss
We go through many life situations where we experience loss. The important thing to remember is that the physical, psychological, emotional and social processes that we experience in our loss are common to all types of loss. The person grieving for someone who has died goes through a similar or related experience to those who lose a job. The intensity of the experience of loss will vary. Understanding the Kübler-Ross Model of the Five Stages of Grief can help the healing process enormously. We can better understand what we are going through rather than feeling overwhelmed by these unexpected emotions and reaction. It will also help us to show compassion to others going through the pain of loss.
We might experience loss …. 
Through death of a loved one
Through divorce
Through migration
Our physical health through disability
Our physical health through chronic illness
Our physical health through rape or any other violent act
Our mental health through neurosis or psychosis
Our memory through age, Alzheimers, disease etc.
Our property through theft
Our employment
Elisabeth Kübler-Ross –  5 Stages of Grief
Denial and Isolation
Anger
Bargaining
Depression
Acceptance
 1. DENIAL AND ISOLATION
When a person experiences denial they act as if they are unaffected by the loss. In reality the person is trying to protect themselves from the intense pain that the loss has produced in them. The grieving person could also act as if the person has not died.
Sometimes, the bereaved person creates fantasies abut the continued spiritual existence of the person in the house. Some have 'sightings' in the person's room or of the deceased sitting in a chair. These are projections of a wish that the person were still alive.
At times when a person has gone missing and presumed dead, the grieving person might  know rationally that they have probably been killed. However they cling to the hope that during the search the person will be found alive. It can be easier to overcome denial by physically seeing the dead body of the person you love. While a body is missing, death is harder to accept, because there is always the hope that the person will be found alive.
In short, denial is a subconscious or unconscious refusal to accept that the person is no longer there. It leads to isolation because during denial people will build a barrier around themselves to protect themselves against the unacceptable truth.
When the shock sets in, it can result in feelings of anger, fear panic or protest.
2. ANGER
Angry feelings may come and go throughout the grieving process. But the question is who do we get angry with?
It could be any of the following:
With ourselves, for not having said goodbye properly
With the medical profession for failing to rescue the person's life
With other family members, who want to arrange the funeral and the family affiars differently
With God. Questions like "Why did you allow…. to die so young? It's not fair". The comment "it's not fair" is a classic expression of anger
With the person who died. The bereaved doesn't usually say it out loud but there can be resentment at having been left in the lurch. Children might have to be raised single-handedly by the surviving parent on a reduced income. There could be all sorts of reasons.
People need to be allowed to express their anger in order to deal with it. Otherwise anger can be like a poison to the system if it is denied and suppressed and allowed to remain on the inside. Anger towards a dead person can be difficult to deal with. It can help to "write" a letter to the dead person expressing the angry feelings. This will get it out of the system. The letter can then be torn up and thrown away, symbolizing that the anger has been dealt with.
Let your friend vent their anger to you as it will get it out of their system. This is the time to be a good, non-judgmental listener.
3. BARGAINING
This stage can happen before someone dies. The bargaining is usually with God and comes in words like "I'll accept … if …" These promises or bargains can result in a feeling of guilt as the bereaved person feels they have failed the deceased person.
4. DEPRESSION
The person has gone, nothing more can be done and now there's an empty space in your life, in your home, in your heart, in your world. You feel sad, unfulfilled and half dead. This is the step before acceptance. The truth is bleak. No bargaining can be done. Anger will accomplish nothing. Denial has got your anywhere.
So you go into a dark place….
If you are trying to help a friend through this stage, this is not the time for speaking religious pleasantries, or encouraging positive thinking. So often you hear someone try comforting words like, "So and so is in a better place .." This is not really the point and the way to help, you need to hear your friend's pain. It is time to hear their sense of desolation and darkness, acknowledge its validity as well as its reality. Walk alongside your friend in their place of darknwss and perhaps reassure them that they are not going mad. Don't abandon them at this stage because this coupled with the depression can lead into a more serious crisis.
5. ACCEPTANCE
At this stage you realize that life can and will go on even in the absence of your loved one. It does not mean forgetting or ignoring your feelings. There is a gradual return of hope and feeling that life can go on. There is a willingness to learn to live with the new absence.
Rituals
In the healing process It is important to have rituals besides the actual funeral. Especially difficult times can be birthdays and Christmas, times that were meaningful together. These are the time that the loss can be particularly painful. Plan ahead for these occasions and perhaps plan outings to friends and family on these days so you don't feel so alone.
How Long is 'Normal Grief'?
There is no 'set time' for mourning, but usually grief lasts about one year. However, some feelings, symptoms and behaviors may continue for a long time, although not as intense as when the loss was first experienced. Significant events such as birthdays, anniversaries and even Christmas can be some of the hardest times for the bereaved person to cope with. This can be expected as these times trigger memories of shared times together.
What Is  An Abnormal Grief Response?
If the person who has experienced a significant loss suffers from depression symptoms for more than 2 months after the loss has occurred it would be adviseable to see a doctor as the sadness could have progressed into a clinical depression. It is time to seek out professional treatment and counselling.
Resolution
Over time, the pain will start to ease. And just remember that your loved one wouldn't want you to mourn forever, your loved one would probably want you to get on with your life and enjoy it!