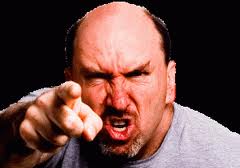 Ever felt crushed by other people's anger and criticism? How do you deal with it? Do you fire back? Or do you clam up and feel sorry for yourself?
We all see the world differently. We all have different values and expectations and our differences are what make life interesting and challenging.. We can't please everyone and if we're honest about who we are, we will more than likely encounter anger and criticism along the way.
Learn these steps and turn a bad situation into a positive experience. From personal experience I know this technique works fantastically! Do yourself a favor – learn these and try them out.
3 Steps to successfully deal with anger and criticism
Step 1: Empathy
Yes, 'empathy', you read right! This might sound like a strange response to someone who is criticizing you, but at this point, it is not about you.
DO NOT defend yourself even if you feel the criticism is unjust. This seems to be our normal automatic response even if your critic is right. Nobody really enjoys being criticized. Find out the exact details of what the person means by asking them questions. Criticism is often very general so you need to get the specifics. Specific questions will lead you to concrete problems that can be dealt with.
Try and see the situation through the eyes of the critic.
Listen objectively.
DO NOT judge the person either. Remind yourself that this is their opinion. It's not necessarily the gospel truth. By following this technique your opponent will run out of steam which will then allow you to have a sensible discussion.
Step 2: Disarm your critic
1.Find a grain of truth in what was said. Whether you agree or not find some way to agree with him, even if it's just in principle that he may be right.
2. Avoid sarcasm or defensiveness. You will want to defend yourself but this is a MAJOR mistake and will lead to open warfare.
3. Always speak the truth. Your opponent will soon run out of ammunition.
Step 3: Feedback and negotiation
Now that your critic has been heard, you can explain your position and emotions. Tactfully but assertively and negotiate any real differences.If you are wrong the critics' respect for you will increase because of how you handled the situation. If you agree with him, thank the person for providing you with the information and apologize for any hurt you might have caused.
BELIEVE ME, THIS TECHNIQUE REALLY WORKS!!
Soon after I'd learnt these 3 steps I had a chance to put these steps into practice. I was giving a public talk on depression when a gentleman raised his hand to ask a question. This man was a lawyer and I felt I was being grilled in the witness box! I listened attentively while thinking:

Don't defend yourself
Find a grain of truth in what he's saying

Having done this, I explained my position. He melted into a 'meek little baby' and we were able to move on. The technique worked so well that many people congratulated me on how I handled this rather difficult man. Was I ever so thankful for just having learnt the technique!
My Defensive Friend and her Son
Let me tell you this good everyday example.
Situation: My friend was late for picking up her son from school. When he got into the car he said 'You're late!'
My Friend's response (with an irritated tone): 'I was at the shop and that took longer than I expected and …  then the traffic …. (blah, blah, blah!)
Can you see the problem with this reply?
It's defensive and she hasn't acknowledged the truth in what her son said.  He said "you're late!'. The truthful and un-defensive reply should rather have been something like 'Yes, you're right, I am 10 minutes late.' In effect she was responding to the question 'Why are you  late?', a question that the son hadn't even asked.
Once she changed her defensive style of responding, the family relationships all turned around for the better. They all wondered what had happened to their normally prickly wife and mother!
Related post: The Joy of Honesty