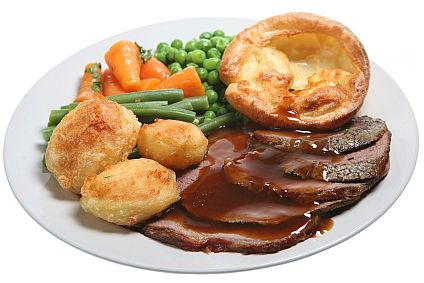 Have you heard this story about the Sunday roast?
Tarryn: "Is there a reason you cut the roast in half before putting it in the oven? Some sort of new recipe?"
Sue: "No, that's the way my Mom always did it, so I'm just doing it the same way…. "Come to think of it I should ask her why, I never thought of that before."
Sue: "Hey Mom, is there a reason that you always cut the roast in half before putting it in the oven."
Mom: "No, that's the way Gran always did it when I was growing up. I just carried on doing the same." Better ask Gran for the reason."
Sue: "Hey Gran, Mom said that you always cut the Sunday roast in half before putting it in the oven. I'm interested, was there a reason for this?"
Gran: "Oh yes, my dear, there was a very good reason. My oven in those days was so small. That was the only way the roast would fit into the oven. You're so fortunate nowadays with your huge ovens!"
Belief systems. How often do we do things because 'that's the way it's always done' without really knowing why. As we grow up we learn all sorts of 'beliefs' about how to deal with life. Some common beliefs are:
'If I can't do something perfectly, better not do it at all.'
'I must always do what other people expect of me, I can't say no because then they won't like me.'
'Children are to be seen and not heard' becomes a belief in adulthood that 'nobody will be interested in what I have to say, so I better keep quiet.'
'My mother is always right! (mmh!)
Examine your beliefs. I could make a very long list of all sorts of beliefs like this, but I'm sure you can think of some beliefs that you have about dealing with life. They could be helpful beliefs or not.
Write them down and then make a point of examining the belief and whether it's worth holding onto. Ask a friend what they think about your belief. Is this the sort of advice you would give to a close friend.
If you asked me about the belief 'If you can't do something perfectly, better not do it at all', I'd have to say I totally disagree. This is perfectionist thinking. There are so many things I enjoy doing but very few, if any, that I do perfectly. So why rob myself of enjoying what I do in a quest for perfection.
Actually, the teen years and 20's is the usual time to re-examine the beliefs that you took for granted as being right while growing up. Some you keep and some you throw out as not being for you.
Some people skip this stage and carry on living according to others expectations. This is unhealthy so it is often depression that forces a person to deal with the dilemma of  … WHO AM I ? … for the first time. That's good and healthy!!  It's time to become your own person, a special unique person. The process can be hard as not everyone's going to be happy that you just don't just fall in line with their expectations anymore.
Persevere. A good place to start:
Every time someone says something that gives you a physical reaction, like a thump in the stomach or chest, don't let that feeling go unchecked.
Ask yourself why you had that reaction. Does it tell you about some belief that you should or shouldn't have? Do some detective work.
When you've deciphered a belief, ask yourself if that belief is helpful and even if it is true.
If it's unhelpful, give it marching orders!
Socrates said that 'an un-examined life is not worth living.' Examine your beliefs, and free yourself from the shackles of other people's beliefs and expectations!