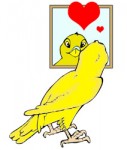 The very biggest regret of both men and women approaching the end of their lives is:
'I wish I'd been courageous enough to live a life true to myself, not the life other people expected of me'.
People so often try to be what they think others want them to be in the hope of being loved and accepted. This seldom works as we can't truly be someone who we're not! We need to live a life true to ourselves and sometimes this requires practice. I hope you enjoy this poem by Dale Wimbrow. Although the poem refers to 'the woman', it applies equally to men!
The Woman in the Glass 
When you get what you want as you struggle for self
And the world makes you queen for a day,
Just go to the mirror and look at yourself,
And see what that woman has to say.
For it isn't your father or mother or husband
Whose judgement upon you must pass;
The person whose verdict counts most in your life
Is the one staring back from the glass.
She's the person to please, never mind all the rest,
For she's with you clear up to the end.
And you've passed your most dangerous, difficult test
If the woman in the glass is your friend.
You may fool the whole world down the pathway of life,
And get pats on your back as you pass.
But your final reward will be heartache and tears
If you've cheated the woman in the glass
Do you find it difficult to love the person you see in the mirror? Make a decision to have a good look at yourself in the mirror everyday and tell your reflection how beautiful you are. The Lord says you are fearfully and wonderfully made! The Lord created you to be exactly the person you are and he never makes a mistake. Believe it!