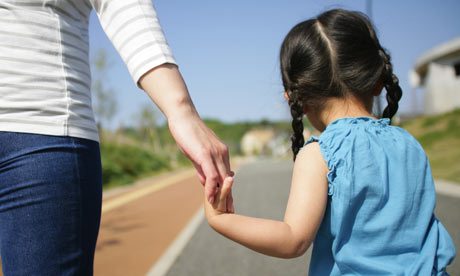 No-one in their right mind wants their child to develop depression in later life, do they?
In reality, this doesn't always seem to be true. Parenting involves teaching our children how to deal with the world.Unfortunately sometimes, as parents we do a bad job of this!
Beliefs taught in childhood can lead to depression in adulthood
We usually pass on our own beliefs on how to cope with life to our kids. Unfortunately, It follows logically that a depressed parent teaches their child the faulty beliefs and attitudes that lead to depression, namely approval seeking and perfectionism. This is all in an attempt to get their  child 'liked' and 'accepted' but it backfires for the child in adulthood. In reality child depression starts with learning incorrect attitudes and beliefs about themselves.
There may be a genetic tendency for depression but I believe the greater cause of depression is faulty thinking and this is what is passed onto the child. Teaching a child correct thinking will inoculate them to a degree against depression in later life.
Inoculate your children against depression, stop depression developing
Think about this for a moment…
Perfectionists, and approval seekers are the most prone to depression. Not really surprising is it? By trying to be perfect or trying to please everyone, you're reaching for the impossible, you're always going to fail and feel stressed and depressed. You have what is called an 'external locus of control'. It is other people who determine who you are. An internal locus of control is what you're aiming for yourself and your children. Ask yourself if what you're doing is to meet the expectations of others, or are you doing it because it's what you want. I've heard of so many people even into middle age, whose main concern is to get approval from their now elderly parents. You're trying in vain – if you didn't get this approval as a child you won't get it as an adult. The approval needs to change and come from within.
Ask yourself these questions
Are you a perfectionist, believing you'll only be accepted if you're perfect? If the answer is yes, it's natural that you'll teach your child the same attitude. Typical attitudes include:
if you can't do it perfectly, don't do it at all
Or maybe you're a person-pleaser, an approval seeker? Do you believe you're only acceptable if people approve of you. The motivation for seeking approval is usually an underlying fear of rejection. Typical attitudes include:
"You can't wear that to go out! What are you thinking? What will other people think of you. The other children will laugh at you."
"Just do what Granny says. You don't want her to be cross with you do you?" Internalizing that adults are ALWAYS right is wrong. Just think of the dilemma for a child faced with abuse. The child thinks "Got to do what adults say – they're always right."
"You don't really feel that way". In other words don't trust your own feelings, everybody else knows better.
"Don't get angry! Nobody likes children who get angry".
I'm sure you can think of many examples of faulty thinking patterns that are taught to children. Please write them in the comment box, I'd be interested to add more to the list.
Perfectionism and approval seeking lead to depression because it places our well-being at the mercy of others. Until there is self-approval and self acceptance, there will always be a 'bottomless pit' that is constantly seeking or manipulating others to fill with love and approval.
Children need to feel competent, feel that they are to some degree in control of their lives. They need to make choices and learn that mistakes are fine, mistakes are part of learning to live in this world. This type of acceptance gives children confidence to deal with the world, to see the world as an exciting place rather than as a fearful place.
Research has shown that adolescent boys that tended towards some delinquent behavior were more successful in adult life than boys who were taught to fear the world because of what others might think of them. Makes one think!
You might be a perfectionist or an approval seeker, but please try to break the cycle of depression by not teaching them that these are the way to find acceptance. Passing on these attitudes is equivalent to giving your child a mill-stone to carry into adulthood, which is not something a loving parent would intentionally do.
Also see article on developing good self esteem.