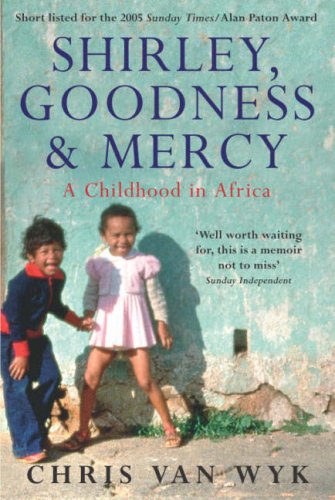 "Shirley, Goodness and Mercy" by Chris van Wyk is the fascinating childhood memoir of life in a Coloured township during the apartheid days in South Africa. It is well written and humorous. I can definitely recommend it particularly to all South Africans.
"One afternoon Greg comes home from school crying….
'What's the matter? asks his sister Kathy.
'Arlene hit me.'
Arlene is Kathy's age and they attend the same school. But that counts for nothing, it seems, when family honour is at stake. Kathy dons her fighting garb of shorts and T-shirt and prepares to stick up for her younger brother. She grabs Greg's hand and storms off up the road to where Arlene stays. Kathy walks right in and delivers a couple of slaps to Arlene's face and warns her to 'Leave my brother alone!'
That evening Arlene's dad comes to complain at the Van Wyks.
'Is this true, Kathy?' her father asks her.
That evening Kathy's dad makes his daughter and son move a few dozen bricks from one place in the yard to another. This is punishment for slapping Arlene.
Greg sniffles and complains about what he sees as an injustice but Kathy says, 'Don't worry, they don't realize that carrying bricks around just makes us stronger.'
Moral of the story : It's all about perceptions, whether we see the glass as half-full or half-empty.
Do you identify with Greg sniffling and complaining how life is so unfair? Or can you see the situation from another perspective like Kathy? Carrying bricks, or facing up to difficulties can in the end make you stronger. All depends on attitude.