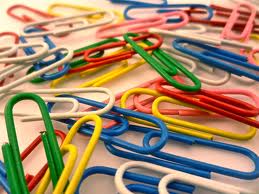 Paper Clip Test? Now that might sound like a strange heading on a blog related to depression. Paper clips are going to help you become aware of your negative thinking so bear with me….
Your mood is a directly linked to your thoughts. If you have negative thoughts, your mood is going to be down. If you have happy thoughts your mood is going to be more upbeat. Negative thinking and negative talk are symptoms of depression.
SO.. It's worthwhile taking the time to examine your thoughts. Many people say their depression and anxiety has nothing to do with their thoughts, but has everything to do with the life situations they find themselves in. Stress at work, stress in relationships are to blame.
BUT these events in themselves are NOT going to cause depression and anxiety. It's the negative thoughts that these events trigger that will be your downfall.
Try this Paper Clip Test for a day to see how negative your thoughts are:
Take a handful of paper clips (yes, they're handy for all sorts of things) and put them in your pocket.. For every negative thought that comes into your mind, take out a paper clip and put it in another pocket. You might be surprised at how "the other pocket" fills up!Even being conscious of these clips in your pocket is going to make you more aware of your thoughts.
Becoming aware of your thoughts is a vital key in overcoming depression. Very often we're not aware of our thoughts as they've gone into the unconscious. As you become sensitized to your negative thoughts, examine them and counteract them with 'correct', more helpful thinking.
Just keep on practicing!
Related posts: Cognitive Therapy or Change the Way you Think.
10 Faulty Thinking Patterns.