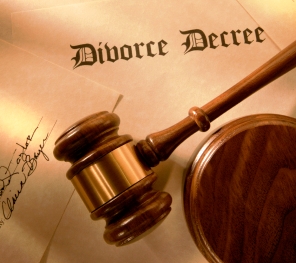 If we get divorced.…
Do these words come up often in conversation?
'If we get divorced …' soon becomes
'When we get divorced …' then
'We're getting divorced..'
'We're divorced!'
The more you think about divorce as a solution to marriage problems, and the more you raise the possibility, the more likely divorce will happen. What we think become self-fulfilling prophecies. We make our thoughts come true.
"I'll love you for better or worse, in sickness and in health, for richer or poorer, until death do us part." Quite a marriage vow to make and so easy to break especially the bit about "Til death do us part" … Looking at the divorce rate, it might be better to say "Til I don't love you anymore!" because that is the reality.
About fifty percent of marriages land up in the divorce court and the only person who really benefits is the divorce attorney. He gets richer and richer…. while the couple get poorer and poorer….
Divorce isn't the answer to all the miseries of marriage, as second marriages are usually even less happy. Many people in second marriages regret they hadn't worked harder at sorting out the problems the first time round. The grass isn't always greener on the other side!
Law of Entropy Have you heard of this one?
Simply stated, entropy is the natural tendency for things to fall apart over time… to dissipate, scatter and get messy beyond repair. Entropy rules, and the world is indeed a mess. If you don't tend to your garden or clean up your house it becomes an absolute mess in no time at all.
The same Law applies to marriage.
Now, you don't just sell your house because it's in a mess, do you? But that's what happens in marriages. In our modern society we want instant gratification, instant happiness with no work. Get rid of the mess and start again rather than learning how to sort out the mess!
Marriage isn't a bed of roses but it is the place where we learn about life, about relationships and about unconditional loving. This can only take place in a safe environment, one that isn't constantly threatened by divorce and rejection.
Never threaten divorce
The first rule is to never, ever glibly talk about the possibility of divorce when you and your partner are fighting. Don't let the word 'divorce' pass your lips. Just think of your marriage as being like a business. A business wants to succeed and to do that an action plan has to be put into place. Just imagine if the manager of a large company kept suggesting to close the company every time something went a bit wrong. He'd soon be fired, wouldn't he? If there's a problem, you make a plan.
The top priority in a marriage is to love each other.
Love is an action word.
Your idea of what's loving might not be your partner's idea of what's loving. So … you  need to find out.
Make a date for the end of the day, sometime after work. Get the kids to bed so they can't interrupt. Turn off the telly and set aside at least 15 minutes to focus on each other.
Talk about anything and everything, your day, your problems, absolutely anything.
Halve the time for each of you and take turns in being first.
Listen without interrupting and without giving fix-it-up solutions. If it's your turn to listen, do exactly that! Listen and give encouraging noises!
Make this a joint plan to prevent the Law of Entropy taking its toll!
Also ask your partner what you already do or can do to make them feel really loved. You might be surprised at what you discover. It might not be that beautiful bouquet of flowers that you thought she loved, but rather just mowing the lawn once a week! You won't know if you don't ask.
Also don't expect your partner to mind-read what you like, or even remember as this could disappoint you big-time! Don't fall into the trap of impatiently saying "how many times do I have to tell you, you should remember by now". That's just nagging and so unloving, and it will back fire. You'll end up feeling sorry for yourself and unloved. Just ask again as if you'd never asked before and just accept that human nature is forgetful. If no harm was intended move on ….be loving … and be happy!!