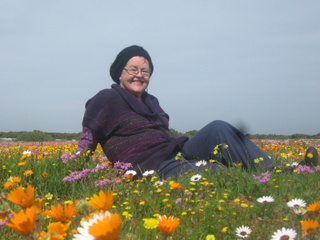 Flowers of the Western Cape.
A few months ago my husband and I went on holiday to the Western Cape of South Africa to see the wild flowers in full bloom. This was truly a spectacular sight – swathes of color as far as the eye could see!
Beauty on One Side Only!
What struck me was the realization that the colors of the flowers weren't visible from all angles. The flowers all turned to face the sun and looking at them from 'behind' you'd have no idea that there was a flower in sight! Their beauty came from facing the sun, from being bathed in light. The side that faced the 'dark', the shadow side, showed no color and no beauty at all.
Light of the World!
That image got me thinking! Today the Christians all over the world celebrate Resurrection Sunday, the day that Jesus rose from the dead. Jesus is also known as the 'Light of the World'. I then understood the message the flowers were giving me. When we keep ourselves turned towards Jesus, towards the truth, living our lives in the light, we will display His beauty. When we live our lives in the dark, trying to hide what we do, in deception, we cannot show that same beauty. It is the Son that reveals our beauty!
Deception
Deception is when we believe a lie to be the truth and it will always get us into trouble. Many people battling to overcome depression will believe a lie to be the truth. Thoughts like you're worthless, unlovable, stupid, to name only a few, are actually lies. Our behavior matches what we believe so believing these lies to be the truth will keep a person living half a life, hobbling along. Examine your thoughts for the truth and replace any lies for the truth. The Bible says 'you will know the truth and the truth will set you free!' Happy Easter!
Click here to learn more about changing the way you think.