Who are you angry with right now? Who needs your forgiveness?
Maybe you're an adult but still feel anger towards things that your parents did to you as a child. Take a moment to think of those people in your life that hurt you and you haven't forgiven. Write them on a piece of paper and write down the offense. Go on, do it!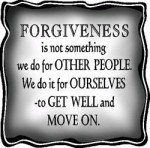 If you're thinking that you can't possibly forgive the person who hurt you, please don't stop reading this post. Bear with me a little longer! The problem is that the only person who gets hurt when you choose not to forgive is yourself. The person who hurt you probably has long since forgotten about the incident and is living a carefree life. They might even be dead, but not forgiving them means that they are still controlling you from the grave!
When you think about the person who hurt you do you rant and rave about them until you feel better. It's a bit like having your abuser behind prison bars in your mind.
Every now and then you pull the bars apart, haul out the prisoner, slap them around a bit and then shove them back behind the bars again! Until the next time! But what has happened is that you are actually the prisoner and that person is controlling the person who you are and your attitude towards life.
You have two choices.
You can choose not to forgive the person. That is your right, but you then run the risk of becoming bitter and twisted.
You can also choose to forgive, which really doesn't come naturally to us. When you choose to forgive, you effectively let out the poison that has been infecting your life. When you want to take back that anger and resentment again, just calmly remind yourself that you have chosen to forgive that person, not for their sake but for yours. Forgiveness allows you to get on with your life. Forgiveness can take time and as long as you are on the road towards forgiveness you're doing well.
The process of forgiveness can be helped by trying to come to some sort of understanding of why the person did what they did. Maybe they too were reacting from something in their past. This is not looking to justify what they did, but rather seeking understanding. Forgiveness is such an important aspect of overcoming depression.
Whatever religion you follow, you will find Holy Scripture that speaks about forgiveness because the God of Love, knows how badly unforgiveness affects us. Muslims are expected to forgive a friend within three days of having a disagreement or fall out.
Christians are also commanded to forgive. Ephesians 4:31-32 in the Bible says "Get rid of all bitterness, rage and anger, brawling and slander, along with every form of malice. Be kind and compassionate to one another, forgiving each other, just as in Christ God forgave you."
God wants you to forgive. If it were impossible He would not ask you to. Ask Him to help you. Forgive, because you can, and it keeps you healthy!
Click here if you would like to read more about the Spiritual Aspects of depression from a Christian perspective.