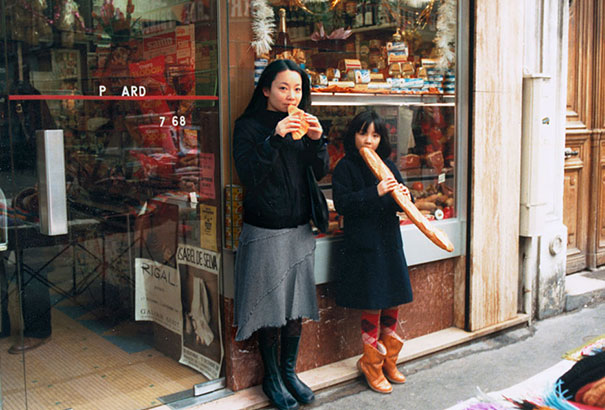 I came across this amazing series of photos, "Imagine Finding Me" by the Japanese London – based photographer Chino Otsuka. With incredible skill she digitally inserts herself into old photos, so that she is standing next to her younger self.
The images got me thinking about "the inner child" ...
We were all children, that's a no-brainer but what most of us are not aware of is that we still have that child living within us.  Whenever you think, feel or behave in a way you did when you were a child, it is your inner child that is acting out. A lack of awareness of your inner child will leave you wondering where so many of your behavioral, emotional and relationship difficulties stem from. Usually they can be traced back to your "inner child" acting out.
Ask yourself…
You're an adult, but have you really grown up?
Is your unconscious inner child, the emotionally wounded, hurting child, controlling or influencing your adult life, trying to make your adult decisions?
For many it is a hurt, fearful angry little boy or girl (in an adult body) who is making adult decisions.  No wonder our relationships go wrong, and then we feel anxious, insecure and inferior, all the feelings we had as little children when we did something "wrong".
Can you recognize behavior or reactions that you don't like, that could possibly stem from an inner child deciding how you should react? What about temper tantrums, sulking or plain irrational behavior. These behaviors might be appropriate for a child, but they're definitely not appropriate for an adult -your inner child is acting out and having control!
Action Plan
1. Become conscious of your inner child. learn to recognize when the inner child is directing how you behave.
2. You have two ways of reacting to your inner child.
Hate: You can get cross with yourself, with your inner child, just as your parent did to you when you were little and did something wrong. Isn't it true that we so often hear the reprimands of our parents in our minds. You can carry on hating and blaming your inner child for all your  ills and remain a helpless victim. You can futilely attempt to force others into fulfilling your infantile needs, but this is also doomed to failure.
Love: It is only through loving your inner child that this child will 'grow up'. Take your inner child seriously, consciously communicate with that little girl or boy within. Listen to how they feel and what they need. Unfortunately for most of us, certain infantile needs were, maliciously or not, unmet by our imperfect parents and they never will be.  A child grows up when it receives proper parental supervision, protection and support. But the only parent who can now do this is YOU, the Adult you.
Visualization: When the inner child reacts badly, reassure your inner child. Close your eyes and visualize yourself holding hands with a little version of yourself. Call that child "Little  ….. (insert your name)" and talk to that child in a loving non-judgemental way eg. "Little John. it's okay you were trying your best, it didn't quite work out, but don't worry, I'm not going to leave you and together we will try again next time… we'll keep practicing, til together, we get it right….)
The process of healing is a journey and not a quick fix and I wish you well on your recovery. If you want to ask me any questions, please don't hesitate to ask something in the coment box.
For more on the inner child click here.
To see more of the amazing pictures of the adult Chino Otsuka inserted into the childhood photos of herself click here