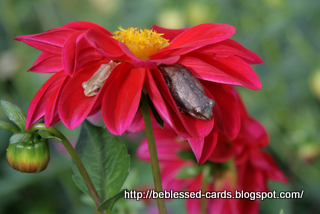 Isn't it true that many of us like to help other people, but are not so good at accepting help from others? We all have a need to be needed and when we help others we get this need met. This feels good.
But in order to give help we need someone who will accept our offer of help. Now this can be a problem because we have been taught to be independent and self-sufficient. Have you ever offered help to someone and your help has been rejected, even thought it's clear that the person needs help? Your offer of help is rejected just so the other person can stay feeling self-sufficient and even feel proud of their independence.
Actually as humans we are meant to be interdependent, helping each other and receiving help from others. This is what makes for healthy relationships. When you reject someone's offer of help you are stopping their 'need to be needed' from being met! You're being quite selfish! So maybe think of an offer of help in another way. Somebody offers you help, think of the other person rather than yourself. By accepting the offer of help you're giving the other person an opportunity to have their 'need to be needed' met. By accepting help you're giving the other person a chance to feel good about themselves and build up their self-esteem.
Many years ago I read the book 'The Road Less Travelled' by M. Scott Peck,  a book I can highly recommend. I'd like to share an example of this principle from his book.
One Sunday as Dr Scott Peck left church it started raining. A patient of his who attended the same church, came up to him and offered him her umbrella. Dr Scott Peck's reply was 'no thank you, I'll just run quickly!' When he climbed into his car he realized what he had done and was furious with himself. By refusing her help, he had denied this young woman the opportunity to feel needed.
M. Scott Peck's book, 'The Road Less Travelled' is available through Amazon. If you're interested, just click on the book icon in the sidebar which will link you to Amazon.