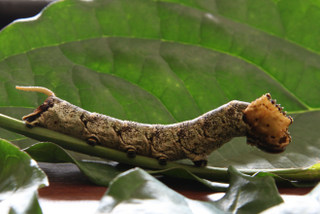 I was working in my garden this morning when I saw this caterpillar. It was so well disguised that I initially thought it was a rolled up dead leaf. It narrowly escaped the blades of my secateurs!  The rather strange lump on the right hand side is the caterpillar's head!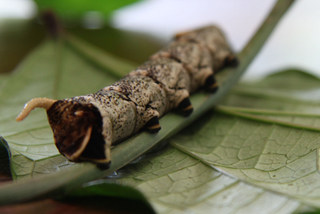 I then looked at the 'backside' of the caterpillar and saw that it had another 'face'. It looked like a big smiley face with a horn on top!
The two-faced caterpillar! Isn't it true that we also wear 'masks'. We put on a face that we think is more acceptable to the world. We pretend that we are somebody that we aren't in order to be accepted. I suspect that the horn above that smiley face might be a dangerous sting for any potential predator looking to breakfast on the caterpillar! Wearing this type of 'pretend' mask can be dangerous to our mental health because in the long run it's impossible to maintain. Also having a genuine relationship with someone who wears a 'mask' is difficult. We might be trying to be more appealing to others but in the end we are more likely to put them off!
Be true to yourself! You certainly will be far more appealing and interesting without that 'pretend' mask!
You might also be interested in these related links.
By the way I'd love to know what butterfly this caterpillar will turn into. If you're a caterpillar expert please let me know.